Omni Healing was developed by Dr. Sameer Kale himself in 1997 and most powerful and fastest growing healing system in the world now.
Experience the aesthetic stress releasing technique to soothe out and relax with Oshoneo Reiki system Developed by Osho himself in 1988, aims only for spiritual development of any kind. Easy to learn and practice with self and others.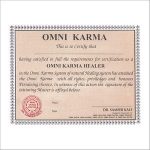 Feel the power and change within you after indulging in our new program OMNI KARMA based upon meditations and counselling. It is basically a past life regression program without hypnosis.
Counselling, Scanning, Beaming Services
Counselling is looking at the Chakras, Scanning does the balancing of energy and Beaming protects the Chakras from all negative energies.
We have Ancient Ramal Astrology derived from MAHABHARAT based upon 5 elements and 9 planets combinations. More accurate than Patrika Jyotish
We have 4 different pendants made up of silver and charged with special energy with it. For Health, Prosperity, Central Nervous system and Negative Energy clearing. Anyone can wear it and have full benefit out of it.
Karuna Reiki is good for them who wish to work more on emotional and psychological problems of their life. Based upon 8 symbols energy channelizes through your chakras and heal you completely
Omni Sphatic (Crystal Therapy)
It is an alternative healing technique for strengthening the body and resolving issues from the core. You can learn this program with Dr. Sameer kale and work with different crystals for different problems.
This is one of the very powerful program designed by Dr.Sameer Kale himself. Based upon chakras rejuvination and for boosting up spiritual energy in yourself to make you more aware and awake.
Omni Vichar is one of the new program developed by Dr. Sameer Kale. Based upon our thought patterns it directly works on our Mental, Emotional and Psychological Levels to provide us total health, Prosperity and overall growth in life.
This Video gives introduction to very first Omni System among 14 systems now introduced by Sameer Kale of India in 1997.
The Omni Holistic Center (ISO 9001:2015) has its Head Office at Kolar Road, Bhopal (M.P).  Dr. Sameer Kale is the Founder of Omni Holistic Center and its a reputed name in the field of Alternative Medicine with different Systems of Reiki, Meditation and Ramal Astrology.
Reiki healing has been very beneficial for me. Thank you so much!
A wonderful warm experience and feel so relaxed. Thank you!
I had missed such experienced, it is the most at ease I have feltin a long time.